Driven' Review: Dir. Nick Hamm (2019) [EIFF]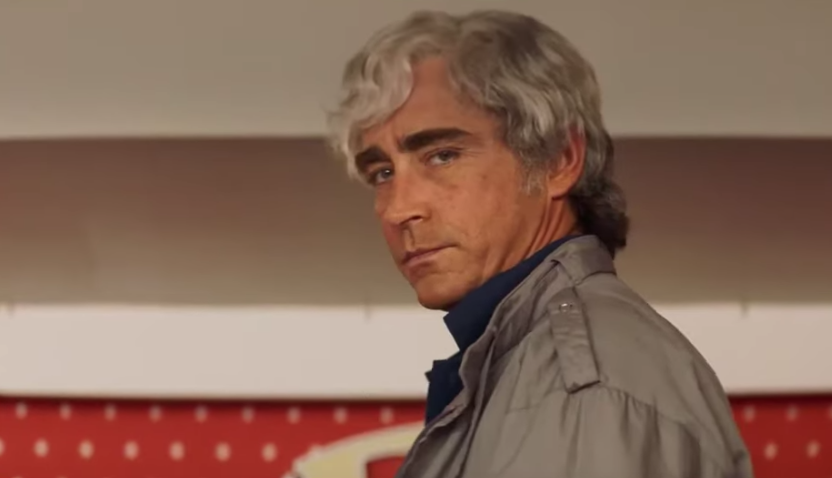 Doug Liman told such a fascinating true story of drug runners and the criminal underworld in the slick, stylish American Made a couple of years back. It's the same joie de vivre Nick Hamm has supercharged into his star-studded Driven – a similarly structured drug-fuelled true story.
Part-biopic, part-crime caper, Hamm reinvents the true story of car tycoon John Delorean (Lee Pace) when his finances came toppling down and forced him to turn to more unsavoury forms of income. The twist? This particular interpretation of the story is told through the eyes of Delorean's ratty neighbour Jim Hoffman (Jason Sudeikis) – a crooked pilot turned FBI informant trying to save his own skin. Tasked by agent Tisa (Corey Stoll) to bring down his former friend, and drug lord, Morgan (Michael Cudlitz) or face jail time, Hoffman goes undercover but finds a sweeter deal emerge when Delorean gets himself entangled in the crossfire too.
The majority of the film is recounted through flashback, with Hoffman standing for questioning of Delorean's trial in the 80s. There's a scrappy, convoluted nature to how the narrative unfolds as a result, jumping between timelines and subplots at the snap of a finger. It's jarring and dizzying at times but the whole story has a sort of unbelievable grandiosity to it. Driven is the kind of film that would play well on a mainstream run – a handsomely cast, lavishly designed true story about a renowned business mogul getting his hands dirty with drugs. What's not to like? Colin Bateman's script is snappy and witty, clearly relishing in the joy the story lends itself to – veering this narrative around bends at such high paces you're almost questioning how it hasn't spun out of control and crashed… if you mind the puns.
Hamm directs this with such veritable style; it's colourful, shiny and grandiose – as polished as Delorean's tailored suits. The characters can fall into archetypal roles at times and there's definitely a sense of deja-vu to be felt (we come back to the aforementioned American Made). But the film is so energetic, so buoyant with life and so gleefully embraced that it's hard not to get wrapped up into it all. Sudeikis and Pace excel in their roles – both clearly having a blast. The former embraces his morally dubious counterpart with open arms, a character so crushed and thrown around that he couldn't care less; the latter acting as the stark contrast – a colder, more calculated man letting his emotional turmoil boil beneath the surface. The pair play well off on another, their clashing dynamics making for some entertaining viewing and a believable friendship – two damaged, lost souls finding respite and relatability within one another. It's the working man versus the workaholic in a manner that feels painfully authentic. They're given great support by an ensemble all on top form – from Cudlitz's maniacal Morgan to Stoll's wry FBI agent, even Judy Greer and Isabela Arraiza as Hoffman and Delorean's wives respectively.
Driven may be well-tread material; it's a story as old age as time – yet the fact it's based on reality perhaps lends itself to more investment – but it's a formula executed with charm and panache. Despite its familiarity, and despite some odd writing choices in how the film structures itself, it remains an absolute, uncompromising blast to watch from start to finish. It's funny and heartfelt, striking the perfect balance between the two; it's stylish and slick, yet never too well-oiled that it becomes devoid of personality. Most of all, it's self-aware and wears it's heart on its sleeve. Hamm clearly knows the kind of story he wants to tell – he could have drenched this is sentimentality or seriousness but he chooses not to – and he goes all in on the entertainment value. Anchored by a cast all on their A-game and Driven makes for a brilliantly fun crime caper. It's undoubtedly one hell of a ride.
---